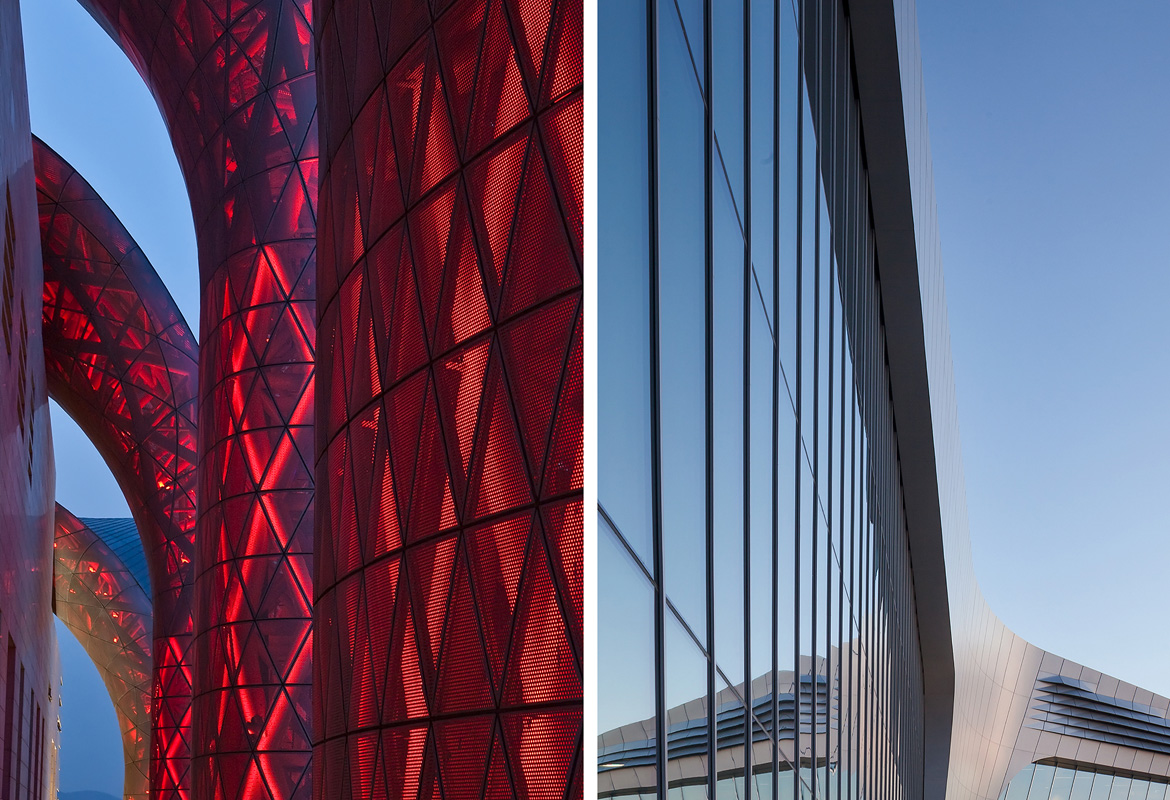 HELSINKI-SHANGHAI, PES-Architects
Museum of Finnish Architecture 7 March-3 June 2018
Finland and China come together in this exhibition, which celebrates PES-Architects' 50th anniversary through our major domestic and international projects.

The focus of the exhibition is on the years 2001–2018. At the start of this period, founding partner, Professor Pekka Salminen made room for the next generation as architect Tuomas Silvennoinen took charge of the office and architect Arttu Suomalainen became a partner. This allowed Pekka Salminen to focus on PES-Architects' international activities. The first contacts with China were established in 2003, and, in 2010, we opened an office in Shanghai.

In Finland, we have continued to design major public buildings, especially transport terminals. Our largest project is Helsinki Airport, on which we have worked for several decades. This was also the project that paved our way to China. The underground stations for the Ring Rail Line that connects to the airport as well as West Terminal 2 in Helsinki West Harbour complete our terminal portfolio to encompass land, sea and air. In addition to Helsinki Airport, one our main international references is the Marienkirche Concert Hall in Germany.

At another level, the exhibition draws a parallel between Finland in 1968 and China in 2018. When the company that is now PES-Architects was founded in 1968, Finland was developing into a Nordic welfare state after the post-war period of rebuilding. Urbanisation led to a great demand for infrastructure building and sports and leisure facilities.

Today, China is undergoing intense urbanisation. A network of high-speed trains has been completed in record time and the Chinese central government heavily supports the construction of leisure facilities, especially cultural buildings. The Wuxi Grand Theatre, completed in 2012, became a calling card that opened the way for PES-Architects to the crest of the wave of cultural building in China. The large culture centre in Fuzhou is due to be completed this year. The Icon Yunduan mixed-use tower was completed in Chengdu in 2017. In autumn 2017, PES-Architects received a commission for the Guangzhou Xinlongsha Highrise hybrid building.



EXHIBITION CONCEPT
The exhibition brings two studios related to PES-Architects' China story into the museum.

One of the studios built for the exhibition portrays our Pop-Up Studio in Helsinki, which was set up in early 2014 after we had won the architectural competition for a cultural centre in Fuzhou, China. Our Marjaniemi office could not accommodate the new design staff required for such a large project and its tight schedule, so we rented an office space of 130 m2 in nearby Itäkeskus. The premises were furnished with desks made by Trash Design out of material salvaged from the World Design Capital Pavilion that stood next to the Museum of Finnish Architecture in 2012. As our staff continued to grow due to new Finnish projects, we set up another office in the Kalasatama district at the end of 2016. The Pop-Up Studio furniture was transferred to the new office premises, and the employees working on the China projects moved back to the old office in Marjaniemi. In this exhibition studio, we present four of our most recent major European projects.

The other exhibition studio represents our Shanghai Studio. This was our first own studio in China in 2010. All of the furniture in this 120 m2 space was made of bamboo and custom-designed by Yrjö Kukkapuro. In autumn 2017, we moved into shared premises with Avarte Shanghai , which manufactures Yrjö Kukkapuro's furniture in China. The studio was furnished with pieces designed by Kukkapuro and other Finnish designers. The original bamboo furniture from the China Studio was shipped to Finland, and most of these items are included in the exhibition. In this studio, we present four of our most recent major projects in China.

In the international competitive scene in China, PES-Architects has sought to stand out as a comprehensive specialist in the design, construction and use of cultural buildings, in particular. This has required extensive networking with experts in different fields. It has also involved innovative parametric design and use of materials, of which there are numerous examples in the exhibition. Our Finnish origin is evident in our user-centric approach and the use of natural materials. A connection to Chinese tradition can often be found in the use of curved architectural forms.

A selection of our other projects throughout the years is displayed through photographs.

The exhibition has been planned and produced by PES-Architects and realised in cooperation with the Museum of Finnish Architecture. Museum of Finnish Architecture | Read more