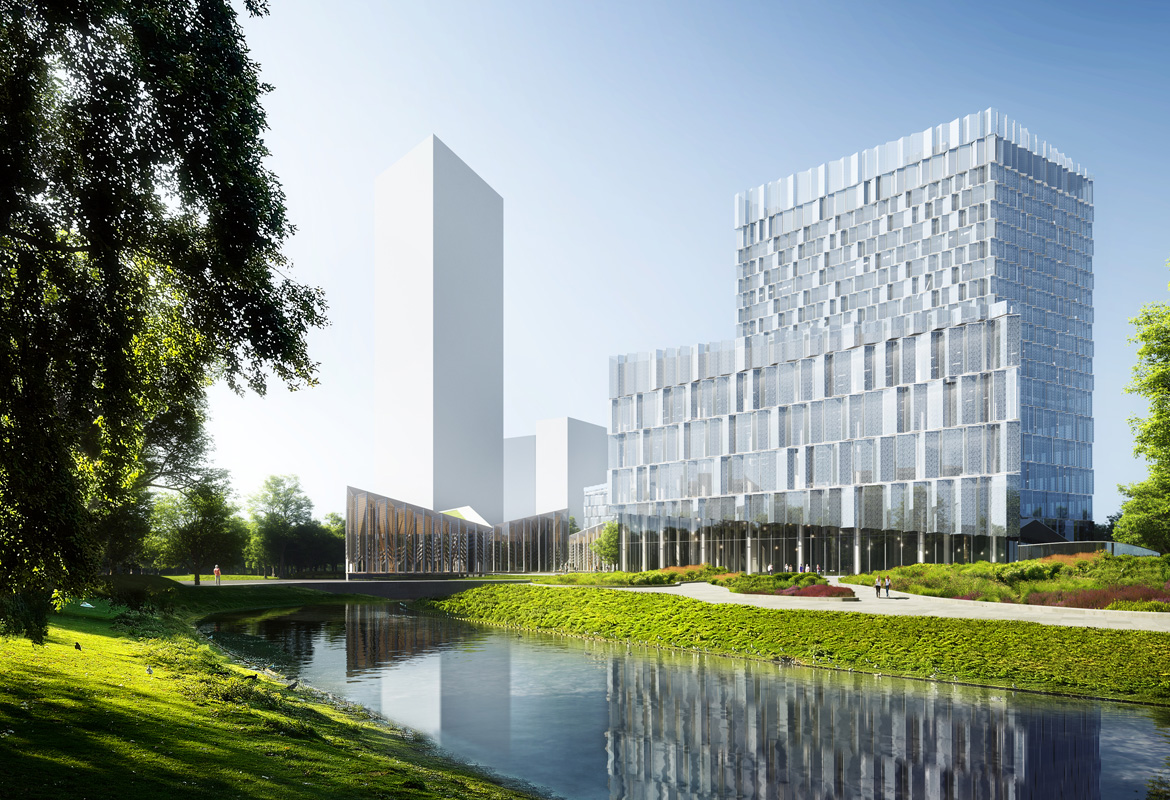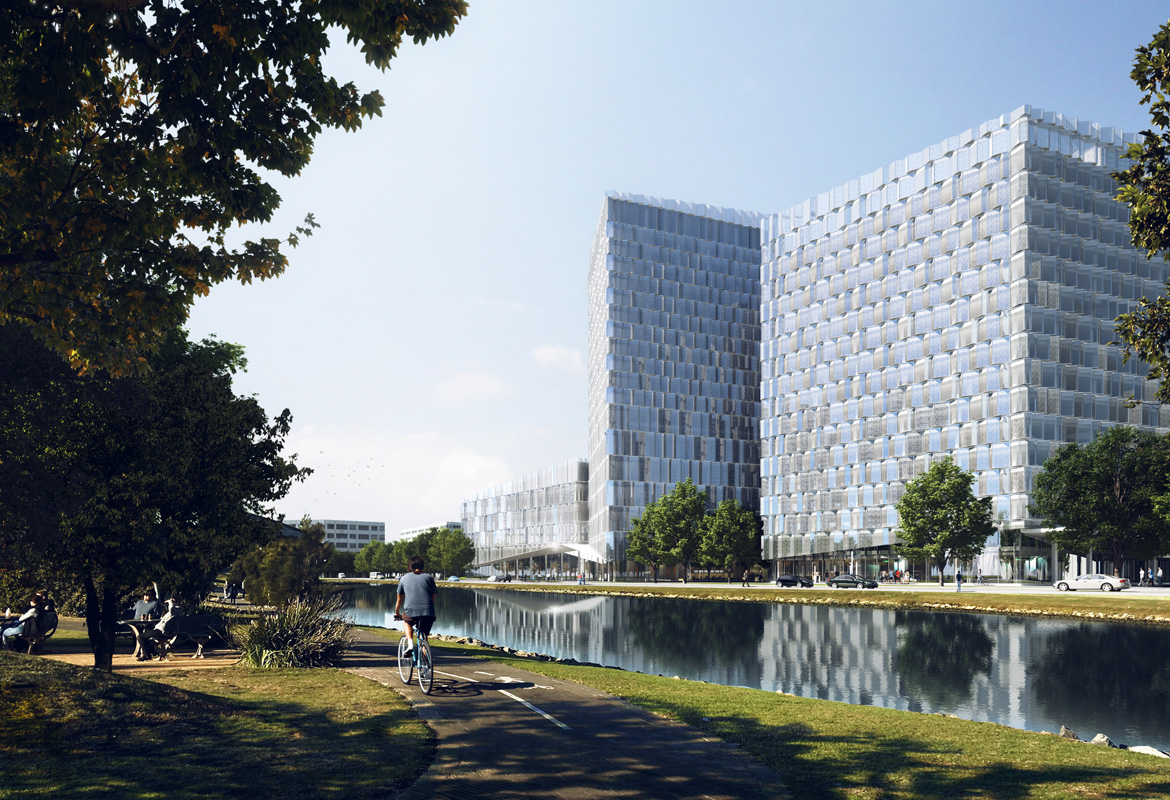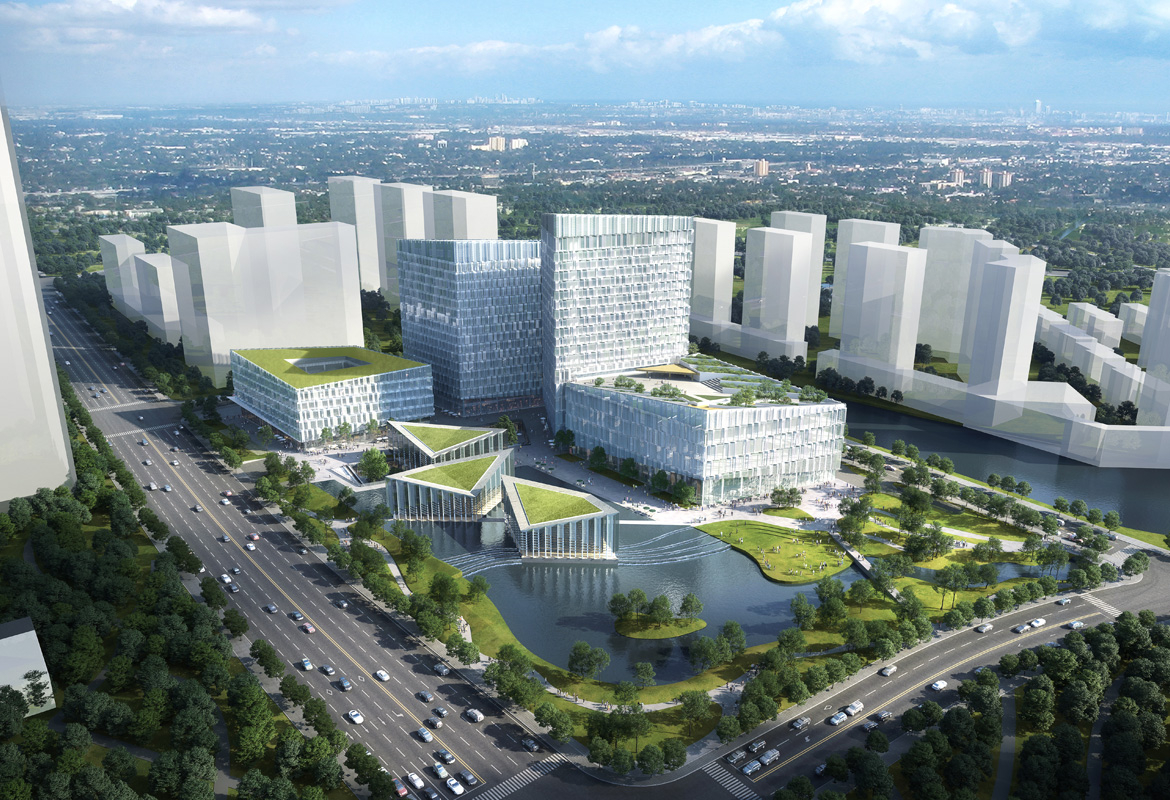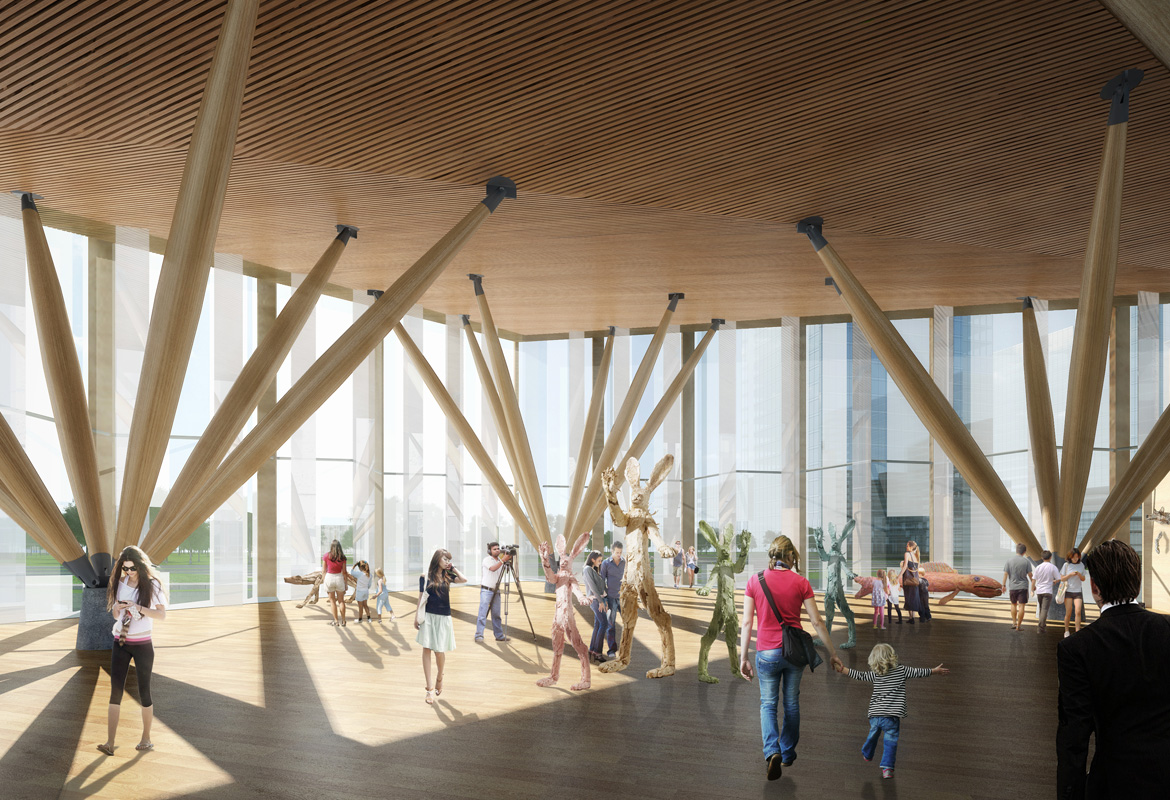 SINO-FINNISH ECONOMIC, TRADE AND CULTURAL COOPERATION AND EXHANGE CENTRE
Nanjing, China
Invited competition 2016 - 1st prize
Client: Nanjing Southern New Town management committee
Project Areas: 194400 m², (above ground 124100 m², below 70300 m²)
Functions: New town Planning and design exhibitions hall, Finnish Green and Clean tech show rooms, conference centre, New town service centre, Finnish business hub, Hotel (250 rooms), Finnish themed retail area with Santa-Claus world
The starting point for the overall design is a metaphor based on the massive ice blocks shaped by icebreakers, or the pack ice formations that develop at sea in the late winter.

The plan is composed around a lakeside square placed at the crossroads of the 4 streets entering the heart of the site. This central plaza or "City Living Room" is a platform for Sino-Finnish/Nordic/European culture, trade and economic communication and forms a shared square providing main entrances to all the buildings.

The complex is further divided into two distinctive wholes. To the south, there is a series of three wooden water pavilions for Finnish art and culture exhibitions and a 4-storey exhibition building for Finnish clean-tech and Southern New Town exhibition purposes. To the north, a combined hybrid office building for the Finnish and European Trade Centre and Southern New Town Service Centre and Conference Centre connects to the hotel.

The conference centre is functionally designed with a large flexible exhibition space and a variety of restaurants and cafes on the ground floor, while the upper floors house the congress and special exhibition areas, with the Finnish Design Hotel occupying the 16-storey tower.

The façade concept follows the project metaphor of broken ice. Every other glass sheet of the undulating double skin façade is patterned with a solar-collecting ice crystal design, taking Chinese calligraphy as a starting point. This unique façade, designed in collaboration with the VTT Technical Research Centre Finland, is based on printed decorative solar cells. This prefabricated facade will not only be a pilot project architecturally, but more so philosophically. This Finnish invention shows the way to the future and tells of a time when solar energy will be harvested for daily use from all types of surfaces, including clothing, everyday items and even solar trees.

The competition was organised by the Nanjing Southern New Town management committee with support from the Embassy of Finland in China and Finpro's Beautiful Beijing program. The competition was exceptional for China in that all the competitors were Finnish architects' offices, including, in addition to PES-Architects, ALA Architects, Helin & Co, JKMM & K2S Consortium, Sanaksenaho Architects and Tengbom Eriksson Architects.

Jury's comments: The overall layout interacts well with the surroundings in an open manner. --- The idea of putting ice cubes on the lake emphasises the character of the Finnish natural landscape. The concept of "ice-breaking" creates different building heights naturally. --- The proposal emphasises the relationship between architecture and nature, and the tradition of respecting nature. --- The use of the wooden structure and façade solar cells embodies the green ecological idea and also reflects the ice cube concept. --- The character of the façade is vivid, and it demonstrates the application and technology of printed solar cells on an architectural façade. It shows the realisation of the form and technical method in one.